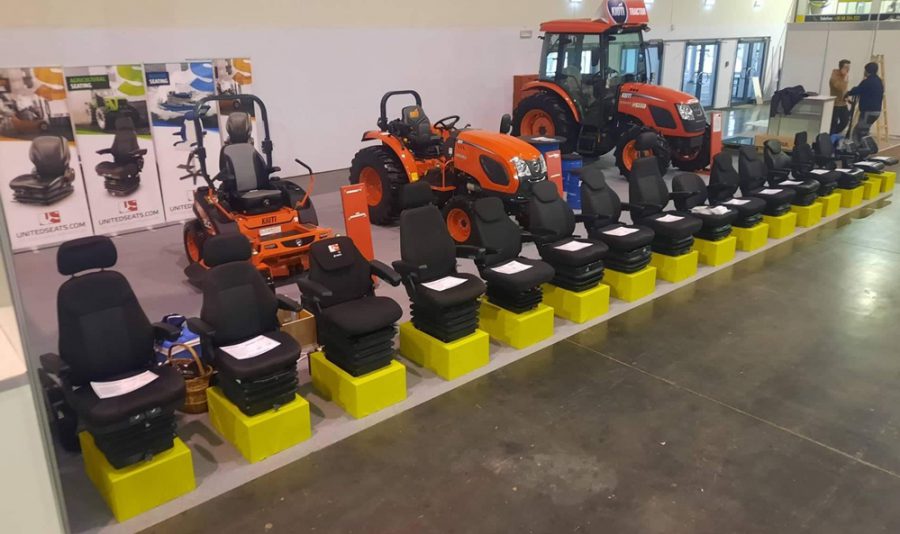 27 January, 2022
---
A seat for everybody!
The Agromash show in Budapest runs from 26th – 29th January, and our partner in Hungary called Agrar Plaza is certainly giving farmers a good choice of seats!
Yes 17 different models to suit all applications and all price points.
Agrar Plaza based in Oroshaza in southern Hungary has been working with UnitedSeats since 2017 and now are consistently one of our best dealers, and 'Gold' ranked in 2021. They are specialists in the Agricultural sector and represent Kyoti tractors in Hungary and many other products for the farming sector.
Luckily the Agromash show is taking place inspite of Covid restrictions. Our main contact at Agrar Plaza is Tamas Kadar and he has done a fantastic job of getting our product into the Hungarian market. During the pandemic when no shows were taking place they had a truck full of display seats that toured the southern part of the country.
The first photos of the stand were taken on the night before the start of the show. Now we have added some photos as well during day 1 to show you how busy the event is.
We thank Agrar Plaza for all their efforts.