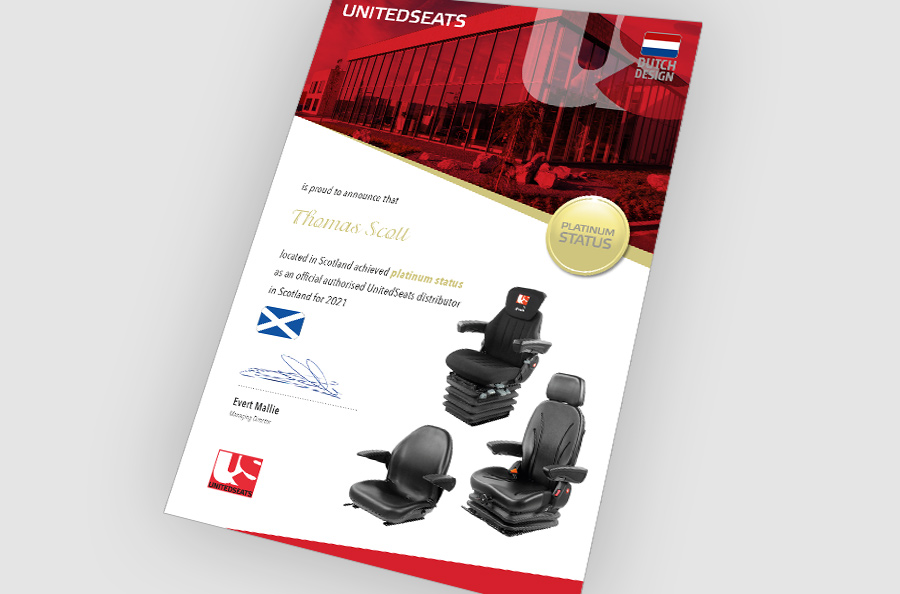 20 January, 2022
---
A Splendid Achievement by Thomas Scott Seating!
Our UnitedSeats Dealer Thomas Scott Seating based in Coatbridge, Scotland is a very experienced seat specialist supplying all key sectors – Truck, Agriculture, Forklift, Marine, Port and Harbours and industry. Over the last five years they have built up the United Seats brand in their programme, and added our product to their website and attended shows.
Led by their Director Greg Ternent his team – Stephen, Graham and Wullie, have done a splendid Job for the US product range. In 2020 they rose to the number 1 dealer in the United Kingdom and now in 2021 they became our number 1 in Europe, a really fantastic achievement!
Greg and his team are planning to attend the Scot plant show and The Royal Highland shows in Edinburgh in April and June respectively and we hope Covid does not affect these great events. They will be fully supported by David Hale and Michael Hale from UnitedSeats.
Greg is shown holding his platinum certificate alongside our UnitedSeats Dealer Banner.
A big thank you goes out to the boys in Scotland.
You can see more on www.drivers-seats.com