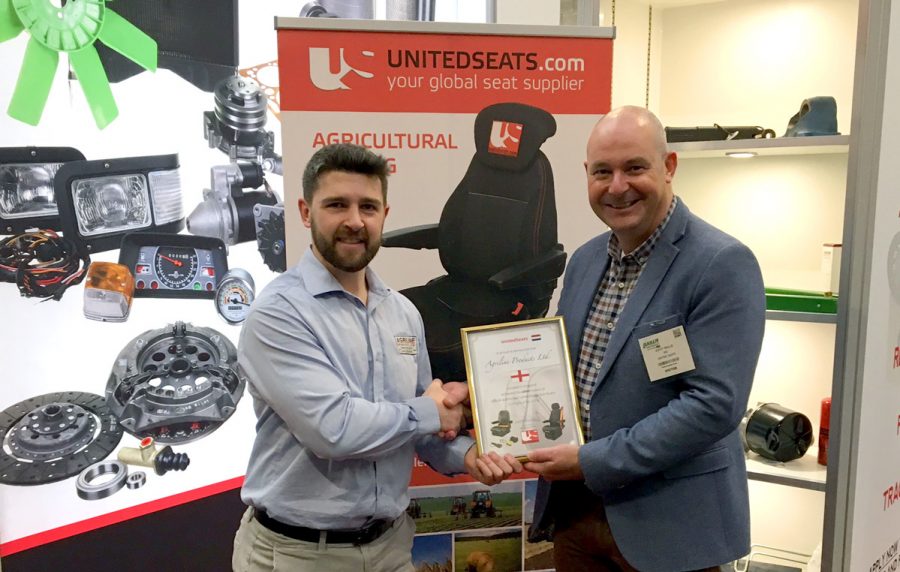 18 January, 2019
---
Agriline receive Silver Award for 2018
Agriline products LTD based in Bromsgrove, Worcestershire have been working with UnitedSeats since the Spring of 2015. They are specialists in supplying parts for classic and vintage tractors and have done an excellent job to promote our products via their website, catalogue and exhibiting at shows. For the third year in a row they have achieved the Silver status for sales and marketing.

Our CEO Evert Mallie is seen presenting the Silver award to their Sales Director Tom Bull and Richard Wofford. On their stand they had a display of seats including LGV90/C1, CS85/C1, CS85/H90 and MGV84/C1 SM.
As Agriline are a very strong brand in the tractor parts sector their stand was busy throughout, keeping Olly Stiley and his team fully occupied. David Hale our UnitedSeats Business Manager said "we are very fortunate to be represented by a strong partner like Agriline to put our brand consistently in front of the farming community".