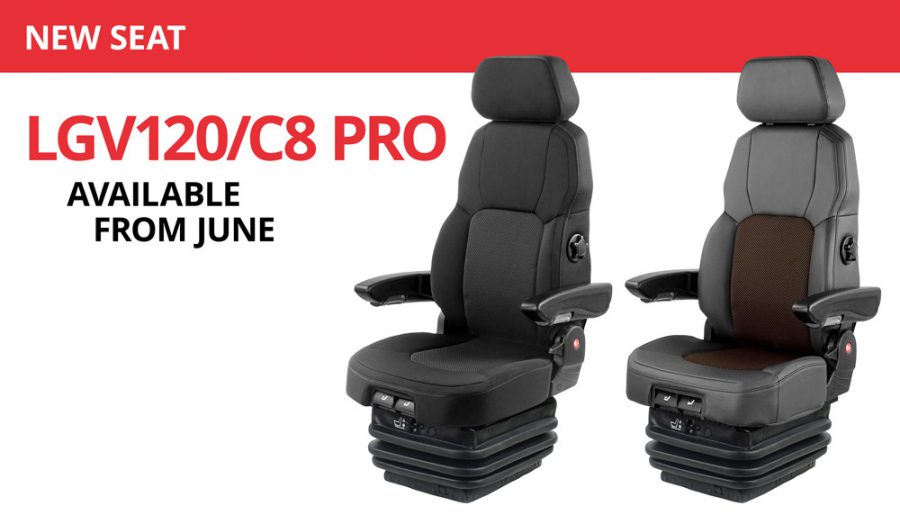 11 May, 2021
---
Air LGV120/C8 Pro (Land Rider) available from June 2021
The Air 'Land Rider' is a new combination seat available from UnitedSeats. It features the ultra-strong LGV120 air suspension with operator weight capacity of 150 kgs. It comes as standard in 24v version but a 12v option is also available.
The air valve is a simple up- down slider, which is easy to operate. This is now combined with the new C8 Pro top of the range high back seat upper. The C8 Pro comes with body supporting seat bolsters, easy to operate automotive style lumbar mechanism , and seat depth and cushion tilt adjustment, to suit all driver sizes.
It has an easy to adjust back recliner. The C8 Pro AH comes as standard with reinforced ' comfort' armrests and adjustable headrest. Possible options include operator presence switch, seat heaters, seat belts.
There are 2 trim options available for now:
Deluxe fabric
HD PVC with fabric centre panel insert
All this makes the Air 'Land Rider' a great package for large construction machines such as wheel loaders, bull dozers, telehandlers, excavators. It can also be used in agricultural machines, Marine applications as well as large industrial vehicles.
An all-round simple, strong and comfortable air seat.
David Hale