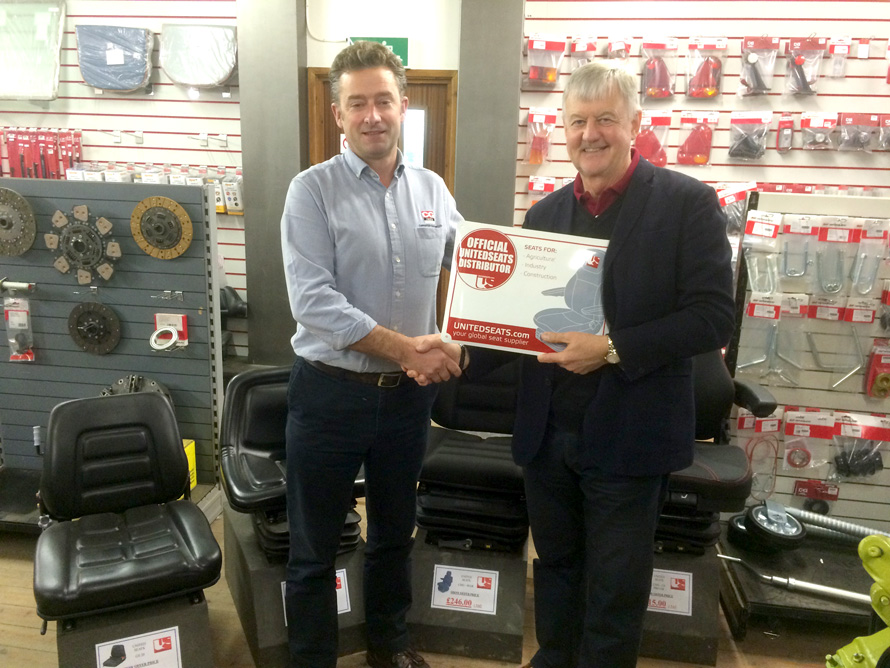 25 November, 2016
---
Carpenter Goodwin appointed as UnitedSeats Tinplate Partner
Based in Leominster in Herefordshire and specializing in the agricultural market Carpenter Goodwin has been a long time customer of EBLO Seating.
Since the start of 2016 Carpenter Goodwin has been increasing activity with the UnitedSeats brand in the west of England and East Wales, starting with a display of our seats at their open house day in March. Subsequently they attended the Royal Welsh show in Builth Wells and a number of one day events in the border area.
David Hale the Business Manager for UnitedSeats has conducted training sessions with the team and for 2017 the plan is to take our seats 'on the road' to end customers. Plans are also in place to attend the Tractor World show in Malvern in February and to return to the Royal Welsh again.
Richard Carpenter (Director) has been pleased with the steady progress and is seen receiving the US tinplate from David.
We are pleased that Carpenter Goodwin has joined the UnitedSeats network.
Website: www.carpentergoodwin.co.uk