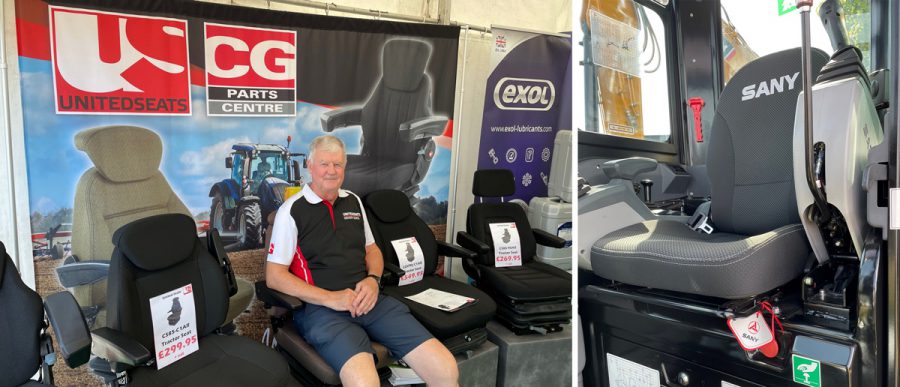 25 July, 2022
---
Carpenter Goodwin attend the Royal Welsh Agricultural Show
Carpenter Goodwin attended the Royal Welsh Agricultural Show 18th – 21st July 2022. It was good to see business returning to normality in Builth Wells, mid – Wales as the Royal Welsh show returned for the first time since 2019, due to the pandemic. Although the first two days took place in the UK's hottest ever heatwave! Nevertheless visitors from the UK'S farming communities flocked back to the show to compete in events and check out the latest machinery.
UnitedSeats were well represented at the event by Carpenter Goodwin our dealer from Leominster in Herefordshire. The team lead by Richard Carpenter and Matt Lindesey did an excellent job to present the products of Sealey, Vapormactic, Exol as well as UnitedSeats. On the UnitedSeats stand area customers could try out our Rancher, LGV90/C1 AR, CS85/C1 AR Brown, CS85/C1 AR Black, CS85/H90 AR, US20, GS12 and W700 Seats.
David and Michael Hale were on hand to give more specific seating advice on installations and other seats from our range that were not on display. On the vehicle stands it was nice to see that many of the SANY mini and midi excavators were fitted with our MGV55 in fabric, Top55 in fabric and Top 55 in PVC seats. These looked really nice with SANY logos and the local dealership Fitzgerald Plant Services Ltd, were really pleased with the comfort of our seats!!
A big Thank you goes to the Carpenter Goodwin team!