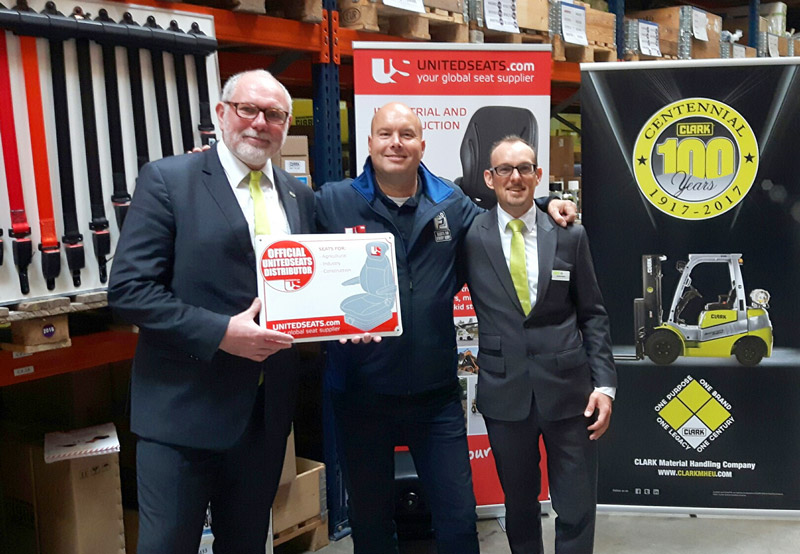 28 September, 2017
---
Clark Europe Forklifts opts for the UnitedSeats MI1000 and MGV35 for their forklift equipment
Clark Europe Forklifts recently celebrated 100 years in the forklift industry. Sales Director André P. van der Hoeven and Key Account Manager Marcel Kool were attending this event in Duisberg on behalf of UnitedSeats. We are very pleased that during this event Clark Europe Forklifts announced that they have opted for UnitedSeats to be their seat supplier. Clark Europe Forklifts decided that the MI1000 and MGV35 are the best seats te be fitted in their forklift trucks.
With more than 450 dealer representatives in more than 90 countries worldwide, Clark Europe Forklifts is one of the industrial truck industry leaders. Thanks to the state-of-the-art distribution centre Totalift Clark Europe can ensure a fast delivery of Clark parts on a worldwide basis.
They will equip their small forklifts with UnitedSeats MI1000 and the advanced MGV35 for larger tow tractors and forklifts. They will be distributed in Europe, the Middle East and Africa in new vehicles. The seats will also be available for the aftermarket.
Safety is an important part of Clark's commitment to customer satisfaction and hence offers a full range of safety products. In addition to our seat range, Clark Europe Forklifts are to offer UnitedSeats own brand range of safety seatbelts. See the complete collection of UnitedSeats safety seatbelts via this link.
Upper photo: Clark Europe Forklifts was very pleased to receive the UnitedSeats 'Tinplate' from André for the official partnership.