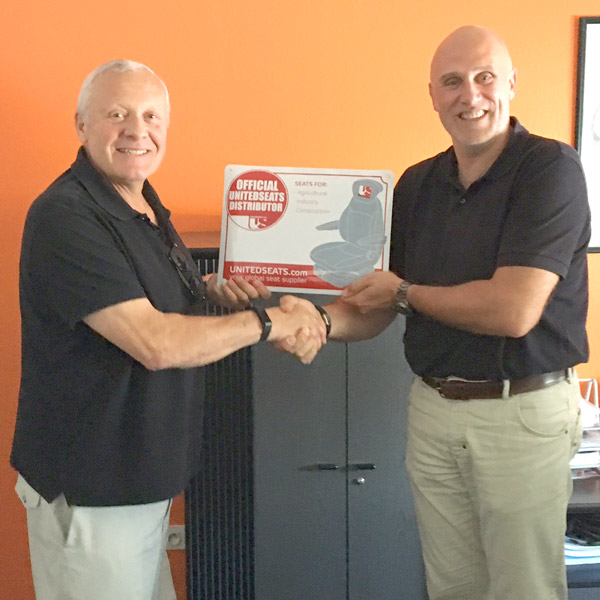 01 August, 2017
---
Diffumag Pieces SA appointed UnitedSeats Tinplate Partner in France
During a recent visit Diffumag Pieces SA based in Geispolsheim near Strasbourg were appointed as a partner for UnitedSeats in France.
Mr. Nicolas Barth was very pleased to receive his Tinplate from Philippe Auroux (UnitedSeats Business Developer). This follows talk held at the SIMA show in Paris. As a result of work by Diffumag over the last 3-4 years with UnitedSeats agricultural products. They specialize in the sale of agricultural equipment parts via trade outlets.
Diffumag have experience with other seat brands but have gradually been adding US products to their portfolio. The CS85/C1 AR has become a favourite with their customer base and they have previously promoted seats like the LGV84/C1 Small (43 cm wide) and the mechanical MGV84/C1 Small for Vineyard machines. Latterly they have introduced our LGV90/C1 AR with swivel for large horsepower tractors in the aftermarket.
The appointment of Diffumag and 3 other companies now gives UnitedSeats coverage in France as can be seen via our STORE LOCATOR.
https://unitedseats.com/product/tractor-seats/cs85c1/
https://unitedseats.com/product/tractor-seats/lgv84c1-sm/
https://unitedseats.com/product/tractor-seats/mgv84c1-sm/
https://unitedseats.com/product/tractor-seats/lgv90c1/