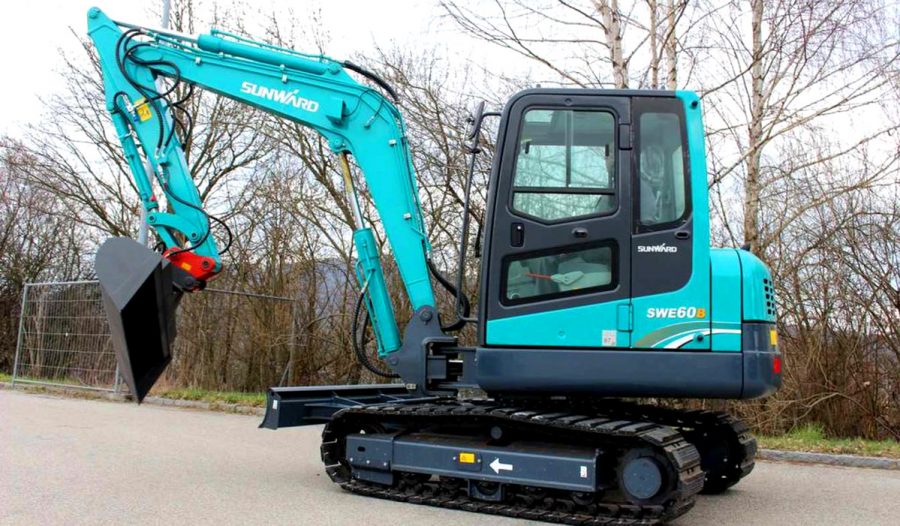 28 May, 2018
---
MGV35 seat increasingly seen in construction machinery and forklifts
It is becoming increasingly more common: to see a UnitedSeats MGV35 seat placed in construction machinery and forklift trucks. This low profile high performance seat is already built in as standard in various forklifts from well-known manufacturers such as Hyster and Clark. We also are seeing more and more of the MGV35 seat installed into small construction machines. A logical choice, because the MGV35 is ideally suited for these machines. Compact in size but with extensive adjustment options and a perfect spring system. What more does a forklift driver or a driver of a construction machine want?
The UnitedSeats MGV35 is now also being built into a series of mini-excavators from Sunward and also TIPS airport tow tugs and tenders. As the MGV35 has common mounting points it is easy to install. The mechanically sprung MGV35 from UnitedSeats has a quick  and smooth weight range adjustment of 50 to 150 kg, a foldable and adjustable backrest, a contact switch and a fully integrated retractable seat belt. Optionally, the chair can be extended with comfort armrests, back extension and a lumbar support.
The MGV35 seat is available in fabric upholstery or Heavy Duty PVC. The MGV35 is normally 460mm wide but is also available with a wider seat cushion (490mm) version and the new UnitedSeats MGV55, with a higher back, is also an option and can take the same accessories.
For retrofitting to different sophisticated forklifts these seats are strong enough to be fitted with pod mounting brackets to take the original pod armrests which carry the operating joysticks. Bracketry for these is also available from UnitedSeats. Following recent additional tests the MGV35 and MGV55 seats have been re-categorised for construction vehicles in classes EM1 to EM9.
For site dumpers the seats can be fitted with retractable Orange switched seat belts with switches to hook up to Green beacons and fitted with a lockable document box to meet non-cabbed vehicle regulations. All in all a very strong high performing seat range.