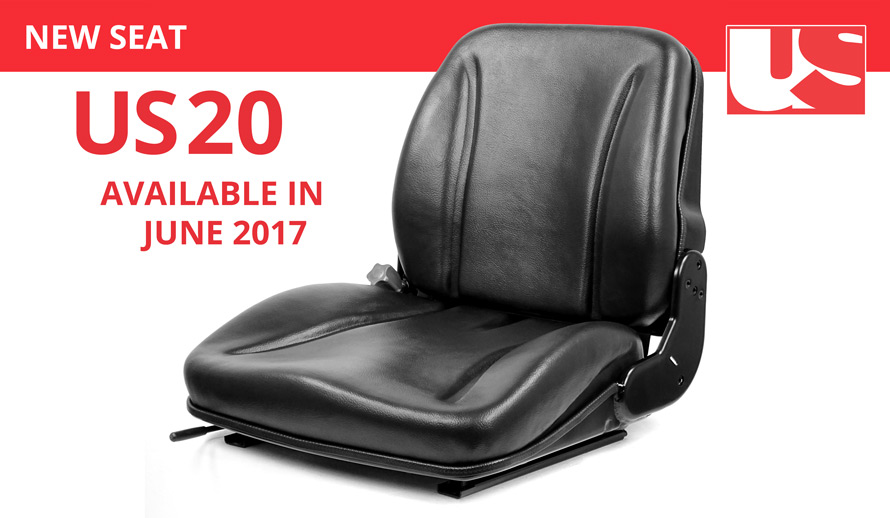 02 May, 2017
---
New US20 seat to be launched in June 2017
UnitedSeats are pleased to announce that the upgrade to the current GS12 and GS20 products will start in June. 
At this time the newly styled US20 will arrive in the stores in Zwijndrecht, The Netherlands.
Featuring more modern, more aesthetic looking cushions the US20 cushions will be supplied in heavy duty PVC, these come with more side support on both back and seat cushions. The US cushion styling also provides a better water run off for outdoor applications. The seat switch is a more advanced type more suited to modern machines, giving more durability and less vulnerability to moisture. It is aimed at the refurbishment market, where forklift and plant dealerships are looking to improve the look of reconditioned machines, and also for the OEM sector where producers of economy industrial vehicles are looking for a newer look for their latest vehicles.
The US20 also comes with a robust plunger type weight adjustment lever and rotary adjusting knob for the back angle recliner. The standard slide rail arrangement is set at the very popular 328 mm centres, but this seat has alternative centres that the slides can be moved to for ease of installation.
The US20 can take static or retractable seat belts. David Hale (UnitedSeats Business Manager) added "I expect the US20 to sell very well for the plant and forklift markets fitted with a retractable HI VIZ orange seat belt with switch (ON.150756S), this is in high demand for safety reasons and hooks up to the green beacons fitted to increasing numbers of these machines operating on worksites. I also expect some customers with yellow machines will also use our new HI VIZ yellow switched seat belts (ON.150757S) for colour harmony".
The US20 will be available with several options:
Heater
Contact switch
Armrests
Seat belt
Document box