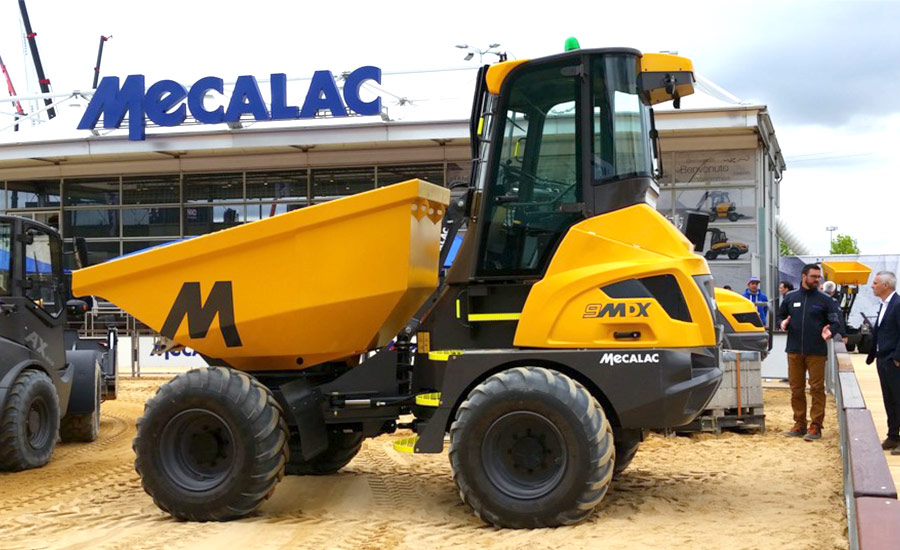 Mecalac
Mecalac based in Coventry in the UK manufacture Backhoe Loaders, Road Rollers and Site Dumpers. Following concern's over vehicle operating safety, the UK Health and Safety Executive has driven an initiative for site dumpers to have cabins instead of simple roll bars. Many OEM's of site dumpers have subsequently been developing a cabbed machine for their range. Mecalac successfully presented their 9MDX machine at the Intermat Construction show in Paris, in April 2018. This stylish machine is also packed with many safety and energy efficient devices. As part of their safety drive they decided to specify the UnitedSeats MGV55 for their 6 & 9 tonne cabbed dumpers: The 6MDX and 9MDX models.
Specifically the MGV55 has a Hi Viz orange switched seat belt, that is connected to a green beacon on the cabin roof. This is so site supervisors can see by the green light that the driver is wearing a seat belt. Inside the seat cushion is an operator safety presence switch, so unless the driver is seated the machine cannot move. In the course of the Health and Safety study it was also realised that large site dumpers when loaded should meet the EM1 construction vehicle standard and not just the EM7 which applies to small site dumpers. UnitedSeats successfully uprated the MGV55 and its low back sister seat the MGV35 to meet EM1.
Further more in order to meet the demand for a seat for heavier drivers the weight range was uprated to accommodate drivers up to 155kgs. (new weight range is 50-155kgs). Further final tailoring was done in conjunction with the Mecalac engineers to provide a plug and play solution, including provision of a wiring harness to link the seat belt switch and seat cushion switch in a single harness to the machine.
The MGV55 is a mid-back, stylish and comfortable seat with drainage and ventilation channels. The weight adjuster is easy to operate, with a visible weight gauge.