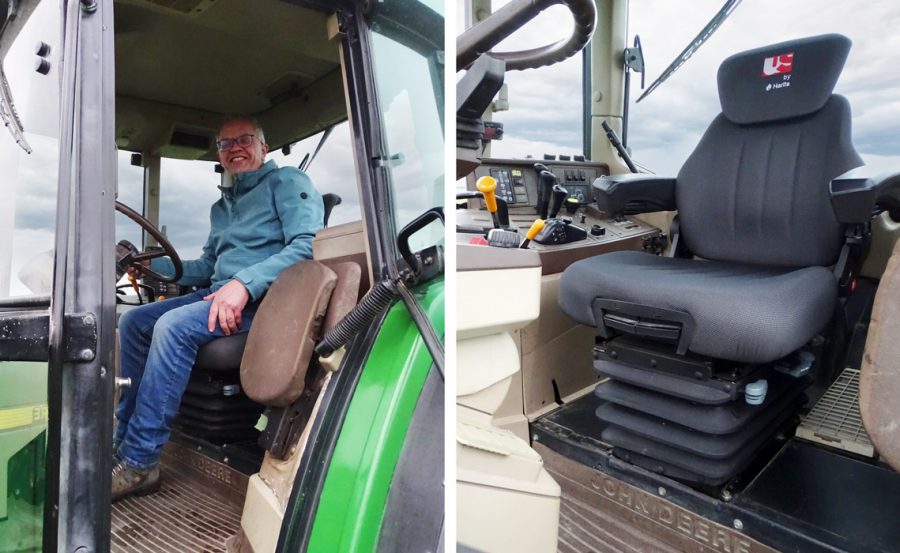 20 March, 2023
---
Rancher Pro the perfect tractor seat for John Deere 6810
Using his 1998 John Deere 6810, one of our Dutch customer Wim van Ingen helps his brother in the fields harvesting and moving hay. He does this only a few times a year, but immediately for 10 hours a day. Especially for such long days in a tractor, a good-quality seat is a must. When choosing a new tractor seat, Wim had some hard requirements that the seat had to meet. Firstly, the seat must be able to swivel to easily look backwards. Secondly, a large and deep seat is important for leg support up to the hollow of the knee. In addition, of course, the seat must be comfortable. Where do you buy such a seat? And how do you know that what you buy from a picture on the internet is really the seat you hope and expect to be?
The only way is to try the seat yourself before you buy it. Try out the features, feel the material. Test the suspension. It is all possible in our showroom, where you can try out various seats. From small seats to a luxury seats with all the trimmings. UnitedSeats have numerous seats, for any vehicle and any budget.
After trying out several seats in our showroom, the choice was quickly made. In the end, Wim chose the Rancher Pro. The Rancher is an air suspended seat with various options as standard. These include a: built-in turntable, adjustable shock absorber, horizontal suspension, adjustable lumbar support, luxury adjustable armrests and back extension.
The ergonomic seat cushion of the 'Pro' version can be extended, so that the seat offers maximum support, regardless of leg length.
Fitting the Rancher into the John Deere tractor was relatively easy. After removing the old seat, the new seat was easily mounted on the pre-existing mounting holes of the previous seat.
We hope Wim enjoys using the Rancher Pro in his John Deere tractor.