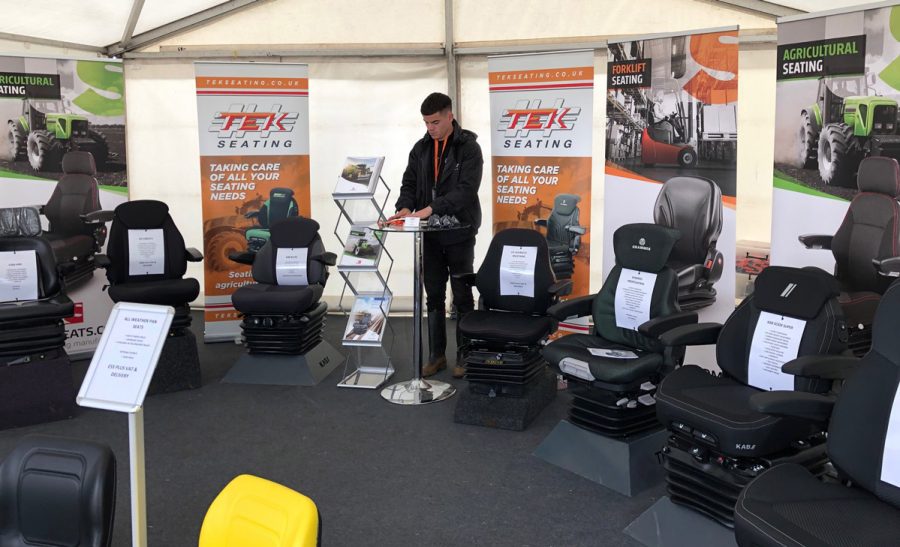 01 July, 2019
---
TEK Seating attend Cereals Show in Lincolnshire
The Cereals Show is the largest Agricultural event in the UK targeting Farmers and professionals in the Cereal, corn and vegetable growing industries. Over 27,000 visitors attend and 470 exhibitors display products. This year's event in Boothby Graffoe near Lincoln brought together all major manufactures of Tractors, crop sprayers, harvesters, ploughs, tillage machines, chemicals and parts supplies. Farmers came from all over the UK and Europe to attend.
In spite of the terrible rainy weather the attendance on day 1 was excellent with a good quantity and quality of farmers and land owners in attendance. On day 2 the weather worsened horribly yet the show still went ahead.
Overall our dealer TEK Seating (based in Tunbridge Wells Kent) presented a great display of seats and took numerous enquiries and recorded sales from the show.
Mark Vivian the TEK Seating Sales Executive did a really nice job in spite of the conditions.
TEK presented a good number of UnitedSeats products such as the Air LGV90/C2 A Mustang, CS85/C1 AR, CS85/H90AR, US20, T600 AB, T700, Mi600's in various colours as well as seats from two other leading brands.
The products worked well along with our new banners and leaflets.
All in all a great effort by TEK Seating in spite of the difficult weather conditions!
David Hale
UnitedSeats Business Manager