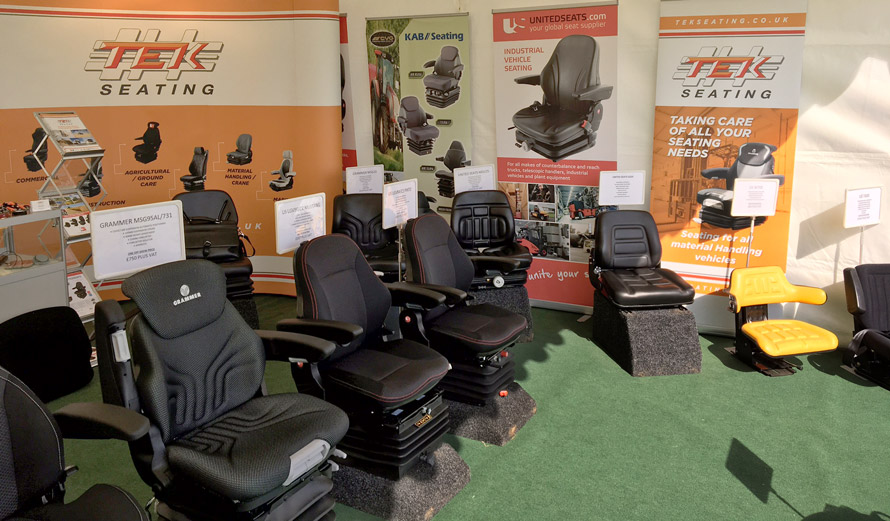 22 June, 2017
---
TEK SEATING exhibit UnitedSeats products at CEREALS show
A week on from the PLANTWORX show and TEK SEATING were in action again at the CEREALS show held near Lincoln (Boothby Graffoe, 14-15th June)
This exhibition showcases tractors, equipment and agricultural products dedicated for the production of grain cereals, with working demonstrations of tractors and crop sprayers and examples of 'fully grown' crops for the farmers to assess. There was a strong attendance over the two sunny days. Once again TEK SEATING had a good representation of UnitedSeats on display as well as other leading brands.
Our seats included the ever popular CS85/C1AR, CS85/H90AR, Air Mustang, Air Pinto, GS20, MGV25, and the new MGV35 as well as some of our smaller rear pedestal seats and accessories such as seat belts, cushions and Slide rails.
For Dan Taylor the Sales Manager of TEK it has been important to get his company out at shows to connect with dealers and end users again. You can see Dan in action in the photo.
David Hale the Business Manager for UnitedSeats said 'we appreciate the efforts of TEK Seating in promoting our product at these events and feel that as a result of seeing such seating displays coupled with our advertising programme the United Seats brand has become well known in the UK and Ireland in a short time'.
Whilst at the show David spotted a WINTERSTEIGER Plot Harvester fitted with a US T600AB seat and a SAMPO ROSENLEW Harvester fitted with a reverse facing CS85/H90 in use as a Buddy seat.
A big thank you goes to Dan and TEK SEATING for their support.
David Hale 22/06/2017.
https://unitedseats.com/product/tractor-seats/cs85c1/