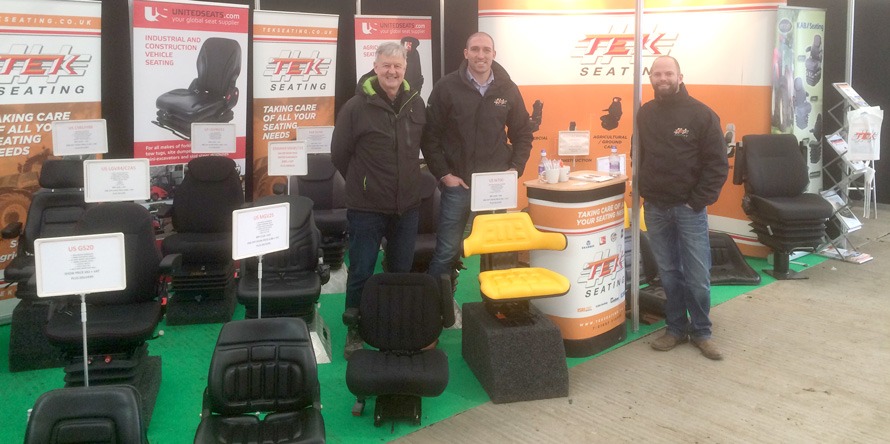 26 January, 2017
---
TEK Seating represent UnitedSeats at LAMMA Show
The LAMMA Show, the UK's largest farm machinery, equipment and agricultural services show, held from 18-19 January in Peterborough.
With over 50,000 visitors attending this is now the premier trade show for the farming community in the UK.
All leading tractor and machinery manufacturers were in attendance at this 2 day event. This show kick starts the whole of the year of agricultural events around the UK and Eire. For the second year running TEK Seating one of our leading Distributors represent UnitedSeats with an excellent display of Air and Mechanical seats. The stand was busy throughout and manned by Dan Taylor, Charlie Hardings and myself David Hale.(see photo).
There was also a welcome visit by Paul Fleming the CEO of the TEK group to experience firsthand the high interest from farmers looking for a better seat or parts for their current worn out seats. As well as the main stays of the UnitedSeats range such as the CS85/C1, CS85/H90, MGV25 and GS20. Also much appreciation for our new 'Mustang' and 'Pinto' air seats with full rotation. This turntable feature can turn to the left or right, can be locked out every 10 degrees. Ideal for applications such as ploughing or hedge cutting.
A big thank you goes to Dan for his efforts in coordinating the stand activity and to TEK Seating for supporting the UnitedSeats brand.
The next big show on the horizon is the FTMTA show in Punchestown near Dublin on the 9-11th February, at which we will be represented by Seat Systems Ltd.
David Hale 26/01/2017
Also see:
www.agriland.ie/farming-news/video-machinery-show-season-is-upon-us
www.fwi.co.uk/machinery/video-lamma-2017-farm-machinery-close-personal.htm