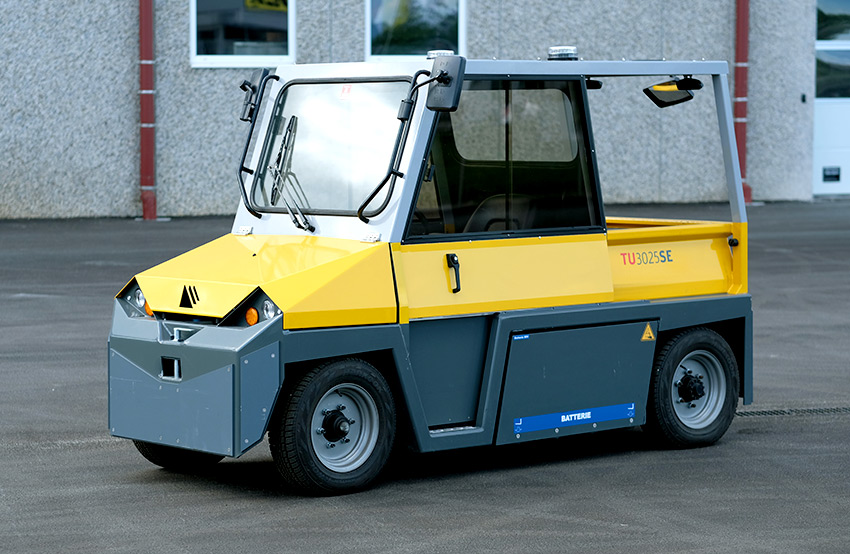 15 November, 2018
---
TIPS Ground Support Equipment use UnitedSeats MGV35 in their Airport Tow Tractors
In early 2018, TIPS, the Slovenian manufacturer of Airport ground support vehicles encountered some seating supply issues for the Airport Tow Tractor that they produce. They urgently contacted UnitedSeats to help them meet orders.
We met the managing board of TIPS in 2017 at the Inter Airport Show in Munich and talked about their vehicles. We talked about their tow tractors and the possibilities of a new seat. The management was very enthusiastic about the UnitedSeats MGV35.  The MGV35 is a perfect seat for small vehicles such as tow tractors. Initially we had to provide CAD 3D models of our MGV35 seat which met their criteria of a strong low profile compact seat, with safety sensor switch and integrated seat belt. The TIPS engineers soon were able to implant the MGV35 seat into the cabin of their TU 3025CE Tow Tractor electronically. Shortly afterwards we sent a sample seat for physical verification by the TIPS team.
Within the month we supplied the first batch of 25 seats and we are pleased to report that they are happy with both the MGV35 product and the service from the United Seats staff. Installation photos of the MGV35 cabin and photo of the Tow Tractor were kindly provided by TIPS. As can be seen via the TIPS website they supply many leading Airports and Airlines.