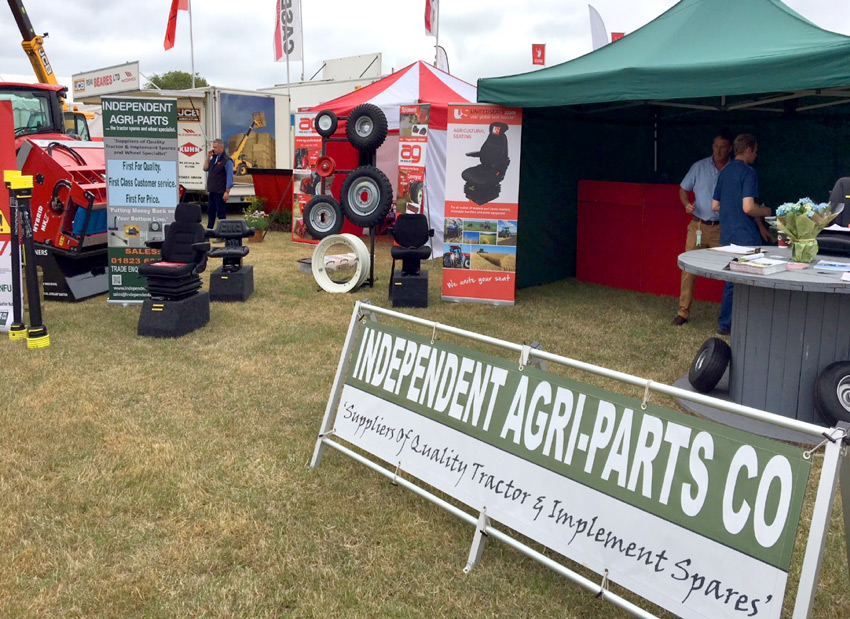 06 August, 2018
---
UnitedSeats on display at the 128th Honiton Agricultural Show
On Thursday 2nd August 2018 this traditional agricultural show in Honiton, East Devon took place. Our UnitedSeats dealer for the area The Independent Agri-Parts took their usual stand at this popular local event. With over 20,000 visitors attending from the local farming community but also from other neighbouring counties such as Dorset, Somerset, Cornwall and Hampshire.   
The weather was dry and sunny throughout the day which followed the pattern of this very hot summer of 2018. Paul and Leisha Clist owners of The Independent Agri-Parts based in Hemyock displayed Wheel Rims, Tyres, PTO Shafts and UnitedSeats. As per their tradition they provide refreshments and sausage rolls and Devon Pasties to their visitors and regular customers.
The Honiton Agricultural Show has many events such as Cattle, Sheep and Horse showing competitions, Riding displays and young farmers events such as tug of war. Again David Hale our Business Manager was pleased to support Paul and Leisha at this community event. David said "Our seats always draw good attention as farmers often have several tractors and machines like telescopic handlers and there is always one of these in need of a new seat. We are always pleased that Paul and Leisha attend events such as this and The Devon County Show and The National Sheep Association Malvern Show as it lifts the profile of UnitedSeats".
The Honiton Show was covered on BBC 1 TV Spotlight News programme at 6.30pm on the evening of the 2nd August. A measure of its importance in Devon.
David is seen below with Paul on the show stand and some other photos from the day.