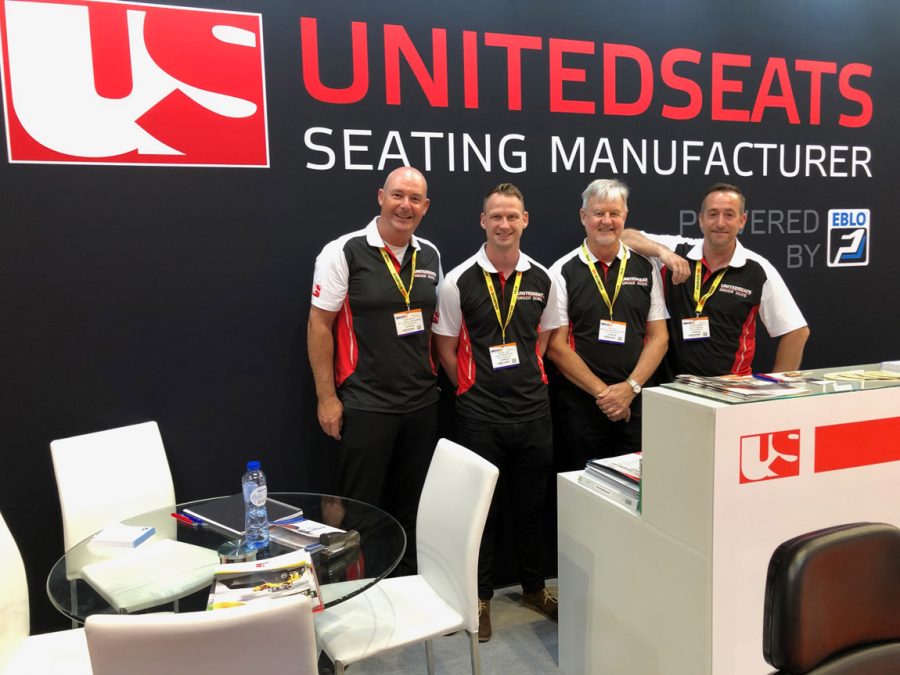 30 September, 2019
---
UnitedSeats has a successful time at the IMHX exhibition in Birmingham
The IMHX show in Birmingham, England took place from the 24th-27th September at the National Exhibition Centre. It normally takes place every three years and is the premier event for the Forklift and Materials Handling sector, with many leading vehicle manufacturers exhibiting such as Crown, Combilift, Doosan, Toyota, Narrow Aisle, Bendi, CAT, Hyster, Manitou and Bradshaw Electric vehicles to name just a few.
Visitors attend from all over the UK and Abroad for this show and United Seats (EBLO SEATING) attended for the fourth time and our stand looked great in the new Black/red livery. We exhibited 9 seats (AIR LGV64/C2AR, CS85/C7 3 PT, MGV25/C5, MGV35 with Comfort back cushion, MGV35 with SITTAB Command armrest and pod, MGV55AR, MI600, US20 and MGV25) as well as a range of our seat belt and accessories.
The MGV55 seat was fitted with Orange retractable seat belt with switch and seat switch and these were hooked up to a green red beacon to demonstrate the operation of both of these.We were visited by key US dealers such as TEK SEATING, CAPITAL SEATING, KDR Seating and our US dealer from South Africa also called to see us. Tim Sanders the MD of LIFTPARTS is seen with Evert Mallie, Anthony Briggs and Michael Hale. We also received visits from many other UK customers and we appreciate them coming to see us.
TEK SEATING based in Tunbridge Wells, Kent also had a booth at the show and included United Seats in their display. They have already achieved Gold Status for 2019 and on their way again to achieve a Platinum achievement. A big thanks goes out to Dan Taylor and his team for their efforts.Also at the show several OEMs had United Seats fitted to their machines and these will be shown in a separate write up.