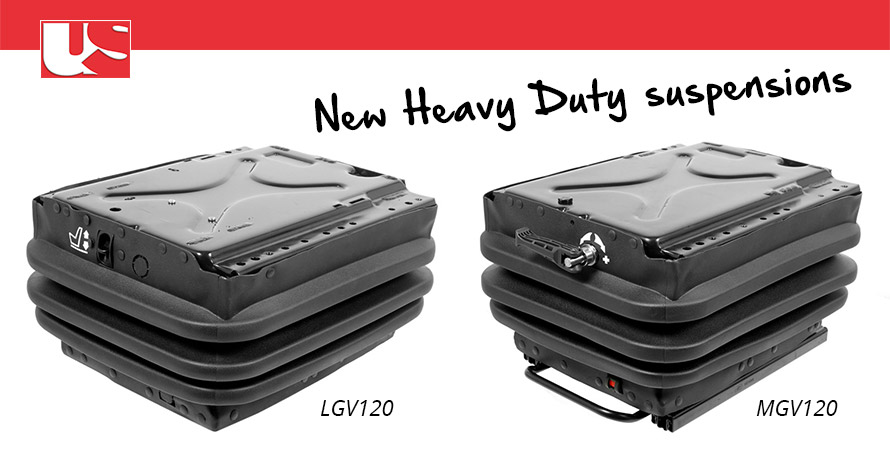 14 November, 2016
---
UnitedSeats introduce 'new' heavy duty suspensions for construction and mining vehicles
To strengthen our product range for heavy applications we are pleased to present the new Air LGV120 and Mechanical MGV120 suspensions with driver weight range of 50-150kgs.
The heavy duty suspensions are large stable X-mechanisms with a front control for driver weight adjustment and a suspension stroke of 100mm. Both suspensions are modular and can be used with a variety of uppers, such as the C1/C2/C4/C2 PRO and C7PRO.
The LGV120 has a simple up/down sliding control for operators to set the air suspension at the desired level, and is available in 12volt or 24volt versions. The LGV120/C7PRO is shown in the photographs and is an ideal combination for excavators, forestry machines, cranes, dozers etc. where the front controls on seats are important, but is also durable enough to be fitted to wheeled loaders, telescopic handlers and dump trucks.
The C7PRO is an excellent high back upper with seat cushion tilt adjustment and seat cushion length adjustment. It can take options such as a seat switch, heating elements, lumbar support, headrest armrests and seat belt. The seat belts can be of the 2 point, 3 point or 4 point types.
In the animation we have shown some of these seat adjustments in action and have also added an OEM vehicle pod to the right hand side of the seat to illustrate its potential. This seat is fitted with standard front to back slide rails and lateral slide rails to show how the seat upper can be moved across the cabin.
Both heavy duty suspensions have bolt down holes at the popular 260mm lateral centres. They can also be fitted with a turntable with rotation stops at 10/20/90 and 180 degrees to the left or right (see link) and even with a heavy duty horizontal suspension.
The mechanical MGV120 has a joggle handle that rotates to adjust for driver weight, it is a simple, economic yet strong solution to eliminate vibration in rough construction or marine environments.
See PDF file of the LGV120 specs and the MGV120 specs.