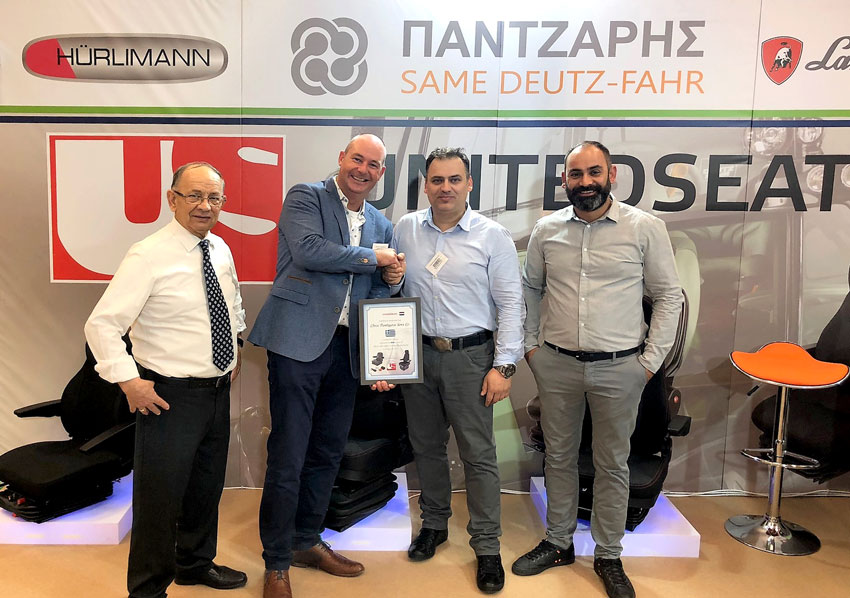 12 February, 2018
---
UnitedSeats were presented at the AGROTICA SHOW in Greece by Chris Pantzaris and Sons Ltd.
Our CEO Evert Mallie was in attendance to support our new Greek dealer Chris Pantzaris and Sons Ltd. at this major agricultural show in Greece's second city Thessaloniki. This is located in the north of the country and the show was very busy and well attended by farmers from around the country. 
The PANTZARIS company is a family firm and are also located in the north, in the city of Serres and represent SAME DEUTZ FAHR tractors and equipment. This includes the sales and servicing of the Hurlimann and Lamborghini tractor brands.
They have been working with UnitedSeats since the early part of 2017 as official dealers and Evert was on hand to present them with their certificate for their efforts. The stand was well presented with the UnitedSeats logo showing nicely, and farmers were able to try out our seats. The show has generated some good leads and interest in some other seat models in our range. In the future they will look to do additional shows and events.
From left to right is Mr. Pantzaris, Evert Mallie, George Pantzaris and his brother Janis Pantzaris.
A big thank you goes to the PANTZARIS family for doing such a professional job at the show.