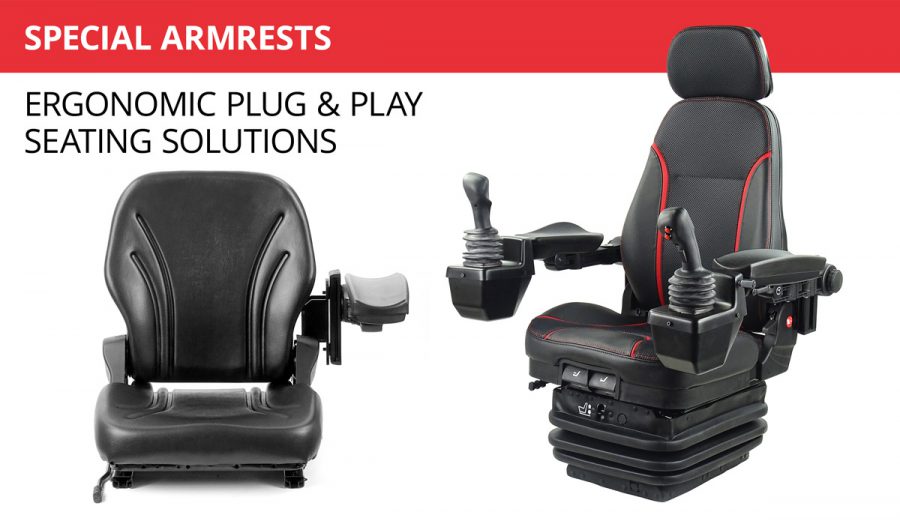 18 March, 2022
---
UnitedSeats product developments
There is a lot of buzz about super modern-iterations for machines, accessories and components. However the reality for driver seats is still someway off in regular machines.
Why? Well in reality many Construction and Agricultural machines in the smaller and medium categories still have to be practical and economical, and the same goes for seats fitted in these. The suspension seat in itself has been a great saviour for drivers of off highway machines, absorbing over 70% of harmful vibrations.
There are still are really only 2 successful options for suspension seats, mechanically sprung or air sprung, and still the most important thing for the driver is that these are properly set for occupant weight.
The progressions lie in the comfort of the seats and the ergonomics to the vehicle operating controls, to prevent lower back and repetitive strain injuries. For example it is important that the arms, wrists and hands are fully supported in a natural line alongside the body to the vehicle controls.
Hence UnitedSeats is partnering special armrest and armrest pod suppliers to provide more ergonomic plug and play seating solutions. One major player in the world of ergonomic armrests is Sittab AB from Sweden. Sittab's products have wide armrest pads, are multi- adjustable (height, width, angle) and can align directly to the machine joysticks or can also take a joystick pod holder.
When mounted to a UnitedSeats seat the seat packages like the Air LGV120/C7 Pro AH, can move completely in conjunction with the vehicle motion.
The latest trend is to improve the comfort, safety and ergonomics in small cabins, and our high performing compact seat, the MGV35 can also take such specialised armrest.
UnitedSeats is currently working with several OEM's at the vehicle design phase to achieve more ergonomic solutions.