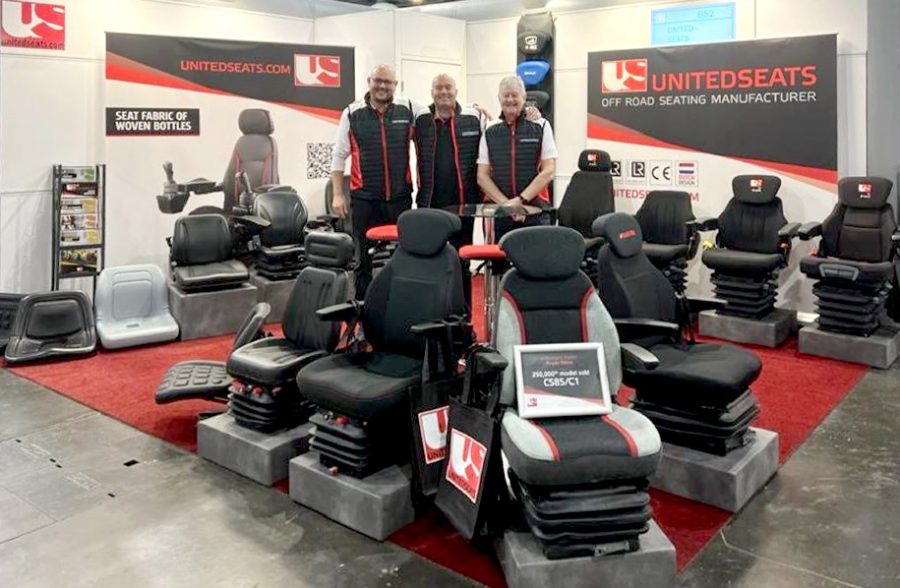 24 November, 2022
---
UnitedSeats Successful Show at Sima, Paris
UnitedSeats exhibited for the first time ever during November at France's premier Agricultural show. Malik Lakhal, David Hale and André van der Hoeven showcased our Rancher Pro, Rancher STD and Rancher Eco, Highlander, LGV120/C8 Pro, MGV55, MGV35, CS85/C1, LGV84/C1, Mi600, Mi560, Mi400 and our new MGV84/1050 SM vineyard tractor seat on the stand.
Our team was were assisted by representatives of our dealer network, Jimmy Goroch and Kevin Dulac from Azur and Vincent Diasparra from BF Equipement. Next door to our stand, cabin manufacturer Cabines Sarrazin, had our LGV64/C2 Pro seat in the single cabin example and our LGV64/C8 Pro in their double cabin designed for forestry vehicles.
With many visitors to the stand, including our dealers Rocco Pieces and Labarriere, pictured below, our team were kept busy throughout the show.
We thank Sarrazin and our partners for their assistance in an successful show promoting the UnitedSeats Brand.