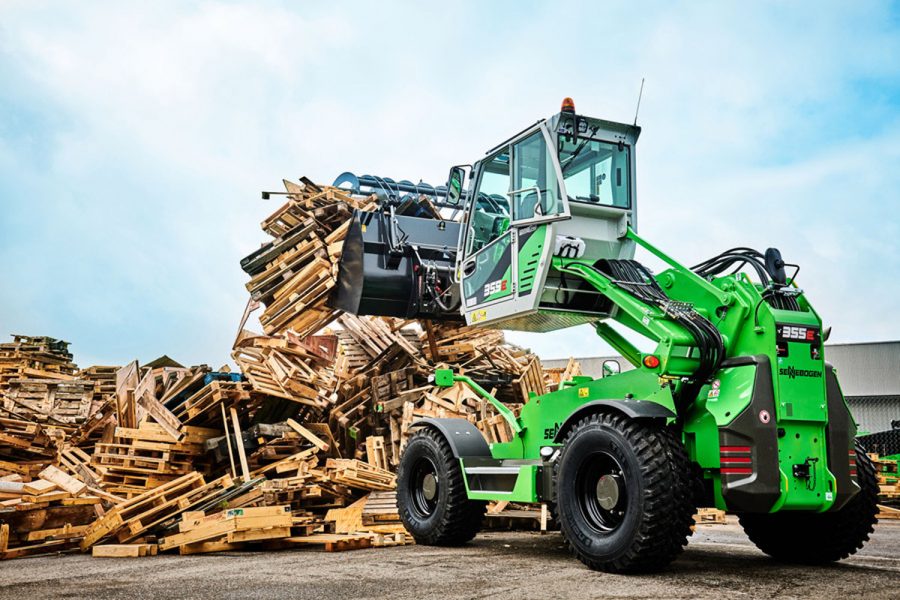 17 July, 2018
---
UnitedSeats supplies LGV90/C1 and CS85/C1 seat combination to SENNEBOGEN
The German manufacturer SENNEBOGEN has been developing and manufacturing machinery for the agricultural industry since 1952, but then branched out into a wide range of construction machines, including Duty cycle cranes, crawler cranes, telescopic and harbour cranes, material handlers, telescopic handlers and base carriers. For their new machine, the Telehandler 355 E, recently presented at the IFAT Show in Munich, UnitedSeats  has started to deliver the AIR LGV90/C1 and Mechanical CS85/C1. These seats help to  create the ideal workplace for every operator. SENNEBOGEN has opted for UnitedSeats as a new seat supplier because of its comfortable seating and because of the fast delivery of the seats.
Workstation completed
The Telehandler 355 E from SENNEBOGEN is intended for the construction, recycling and agricultural sector and sets the new standard for driver comfort, with excellent cabin view and flexible setting options. A unique feature of this machine is that the cabin be elevated for a much better overview of the work being done. The air-sprung UnitedSeats LGV90/C1 and the mechanically suspended CS85/C1 complete the workstation for the operator. Both seats are equipped with a special contact switch, a mounting plate for the joystick console, right hand armrest and a backrest extension with the SENNEBOGEN logo.
Comfortably equipped seats
The UnitedSeats LGV90/C1 features a stepless height adjustment of 80 mm, back recline adjustment, weight adjustment of 50-135 kg and lumbar support as standard. This allows the chair to be perfectly adjusted to the operator's seating requirements for comfortable seating throughout the working day. The mechanically sprung UnitedSeats CS85/C1 is also comfortably equipped with lumbar support, weight adjustment 50-125 kg and backrest angle adjustment. This strengthens United Seats niche business in the European Telescopic handler market.