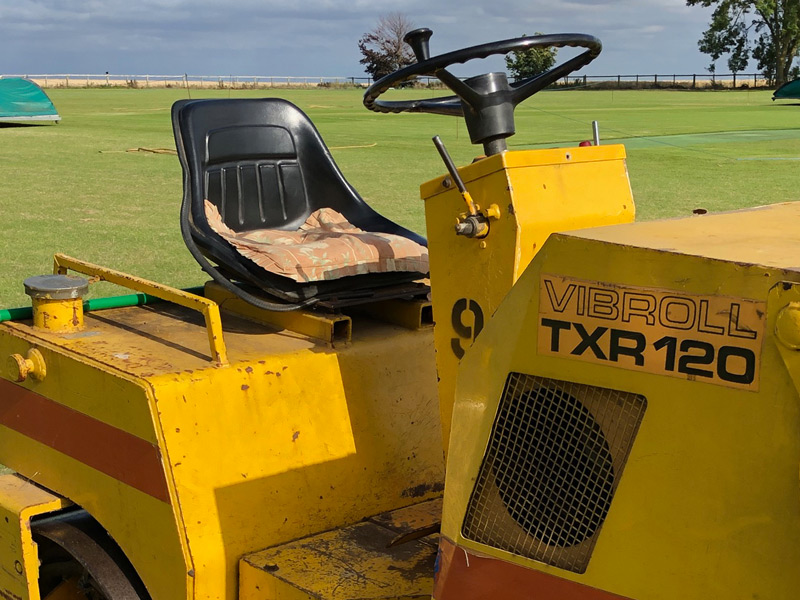 14 July, 2021
---
A reminder about how a good seat saves your back
In the UK and Ireland alone there are close to 1 million tractors, Construction Machines, Forklifts and industrial vehicles in operation. Many of these vehicles are quite old and for farm tractors in particular they can be 20-40 years old and still working usefully.
The vehicle is doing a good job but often the seat is not!
Tractor seating to a large extent falls under the legal radar and if were put in action as many as 50% of tractors would fail a UK MOT on seating related issues. In a work vehicle there is very little suspension protection from the vehicle itself, the tyres are solid and the machines are naturally working on bumpy surfaces. This means the vibrations are transmitted directly to the driver.
A properly functioning suspension seat will protect the driver from up to 70% of harmful vibrations. This can be an air suspension or mechanical suspension seat, they are both equally effective.
The consequence of not having a fully working suspension seat can be painful for the driver – bad backs, slipped discs, dead legs, muscle aches and so on. Often only remedied by expensive medical treatment and physiotherapy, costing many hundreds of pounds or euros.
The suspension seat is the driver's personal shock absorber!
If you take a look at the photos enclosed you can see a range of dilapidated seats still in use. Many have cushions that are chewed open and soaking wet and of course these are going to be uncomfortable and cause hygiene risks as they harbour bacteria that can lead to skin irritations and more medical care.
A really effective mechanical seat for medium and large tractors can cost as little as £250-£300 (€275-€350), and air seat from £500 or €600.
When choosing a seat comfort is of course paramount :-
A lumbar mechanism – improves lower back and kidney support.
Armrests – help reduce load going through the body by up to 15%
Seat belts – not only help protect the driver in the event of a vehicle roll over they improve the performance of the suspension seat as if keeps you in place on the seat surface
Horizontal Suspension – helps eliminate front to rear shocks when pulling implements and trailers.
Heater Elements – are very common in cars these days and of course can make a significant difference to keep muscles warm in cold conditions. This helps reduce muscle and back related injuries.
Seat Swivel – this not only helps with turning activities such as ploughing and hedge cutting, it also makes it easier to get in and out of the cabin.
Seat Cushion length adjustment – for taller operators this can make a big difference in supporting hamstrings and leg muscles.
Cushion Shapes and size – ideally you need to choose those that give good back, bottom and leg support to maintain support and enhance blood flow. So taking time to choose is important. The UnitedSeats C1 is an ideal all round excellent seat upper that will meet the needs of at least 80% of drivers. This can be fitted to air or mechanical suspensions.
Many customers ask us at UnitedSeats is an air seat much better than a mechanical seat? Well technically there is not much difference both will eliminate around 70% of harmful vibration. The main advantage of an air seat is that the driver weight adjustment is by a button or lever and so in vehicles where several drivers use one machine they tend to get adjusted more accurately.
Also air seats like the US Air Rancher offer extra features like variable damping, making it a great seat for all types of surfaces from smooth to very bumpy and for all driver ride preferences.
Today there are many UnitedSeats options available for operators and drivers, for all budgets. Investing in a decent seat makes sense for health and productivity reasons. However if a mechanical seat is properly set then it will also do an Excellent job.
Having a bad seat is not only uncomfortable, but also very costly.
Also read this article about a UnitedSeats Rancher installation: https://unitedseats.com/sumsertech-spain-install-the-first-rancher-seat-in-spain/