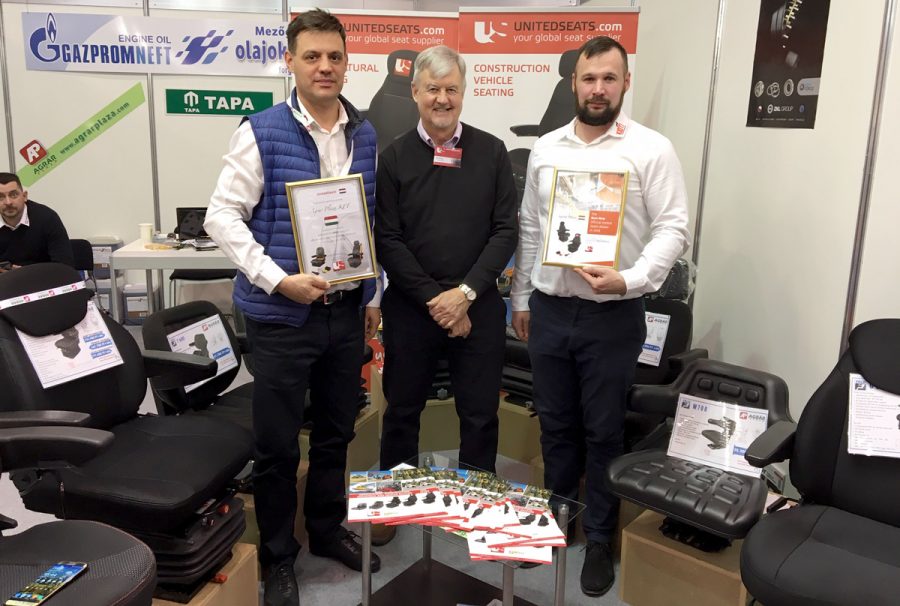 31 January, 2019
---
Agrar Plaza attend the Agromash Expo in Hungary January 2019
Our UnitedSeats dealer based in Budapest Hungary exhibited a range of UnitedSeats at Agromash Expo which proved to be an extremely busy event with farmers from all over Hungary and neighbouring countries visiting this leading agricultural show.
Agrar Plaza are based in the southern city of Oroshaza and sell Kioti tractors and other farm related products. On the stand the display included the air LGV90/C7 PRO, LGV84/C1, CS85/C1, W700, T600, MGV84/Mi560 and the CS85/H90 a very nice display.
The team had nice UnitedSeats leaflets and price flyers for each seat which worked a treat.David Hale our United Seats Business Manager was present to help the Agrar Plaza team on the stand and had great pleasure to present Peter Varga (Co-Owner) and Tamas Kadar (Purchase Manager) with the Silver award and their certificate as the best new UnitedSeats dealer of 2018.
It was only just at the start of 2018 that Agrar Plaza made contact with us via the UnitedSeats website, and requested that we get some display seats to them in time for the Agromash 2018. During 2018 they did a really excellent job promoting to farmers across Hungary and duly deserve their recognition. Hungary has a very rich agricultural sector with a good park of older, robust tractors like the Belarus and MTZ tractors which are now needing new seats.
David was very pleased with the efforts of Peter, Szabolcs, Tamas, Zoltan and Tamas at the show and we are lucky to have found such a strong partner.