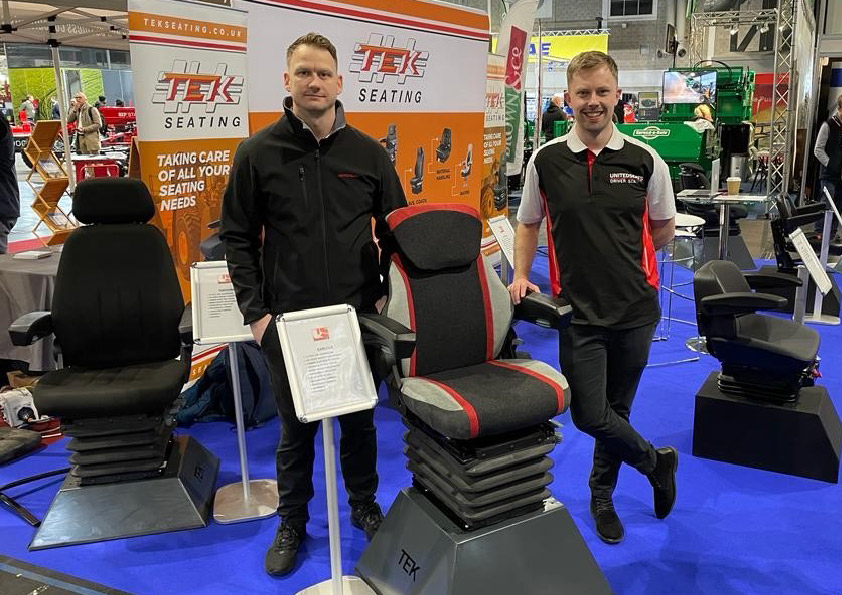 18 January, 2023
---
Lamma Show kicks off 2023
The Lamma show took place at the NEC in Birmingham over two days on 10th & 11th January 2023. It is the largest UK indoor agricultural event of the year and it was well attended by farmers from all over the UK & Ireland.
UnitedSeats were well represented by our two dealers, TEK Seating & Capital Seating. David Hale, Michael Hale & Liam Wood assisted Mark Vivian and Charles Spence on the TEK stand where they had our Highlander, Rancher covered in the Regain fabric, CS85/C1 in retro brown, CS85/H90 AR, US20, Mi600 in grey and Mi600 in yellow, W700 and T600 seats on the stand.
The stand had a steady flow of visitors, all with a vast array of different requirements with the Rancher being particularly popular with users and the W700 for the retro market receiving a lot of interest. We also presented them with their Dealer recognition certificate for 2022 where they achieved Platinum status after a record year with UnitedSeats.
Capital Seating were also at the Lamma where their team, Stephen Swann, Joe Beale and Chris Buzzard, had the Rancher, CS85/C1, CS85/H90 AR, MGV120/C7 Pro and they had the MGV120/C8 Pro fitted to a turn table and covered in the Regain fabric to match their corporate colours. They happily received their recognition certificate after achieving Silver status for the second year running.
Overall, it was a great start to 2023 and we thank them both for their hard work and wish them well with the sales from the show.