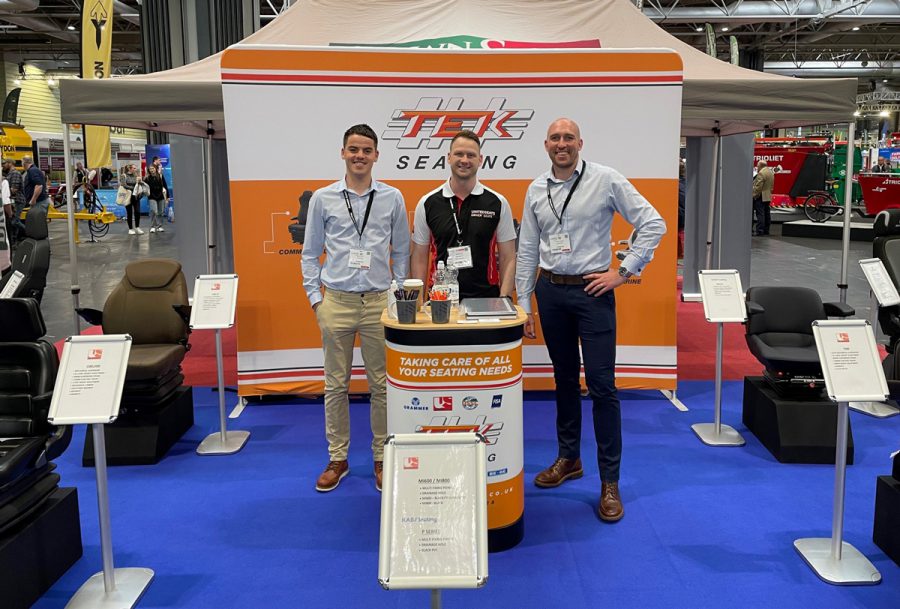 02 June, 2022
---
Lamma show proves very successful
The Lamma show which normally takes place every January was delayed to 4th and 5th May due to the pandemic. So it was great to see this show return to the Birmingham NEC. It is the largest indoor agricultural show in the UK and was well attended by farmers from every corner of the UK and Ireland. Luckily UnitedSeats was well presented at this event by TEK Seating based in Tunbridge wells, Kent.
Mark Vivian and Charlie Harding from TEK Seating can be seen alongside Michael Hale of UnitedSeats in the photos. There was a very nice selection of UnitedSeats to be tested out by visitors. Our products on display included the Rancher and Highlander, CS85/C1 in Retro Brown, CS85/H90 AR, US20, Mi600 plastic pans (in Black, Yellow and grey), T600 AG and W700.
All in all a really good selection. David Hale (UnitedSeats Director) can be seen alongside the US Rancher which was very well received by farmers. Also drawing interest was the 'Retro Brown' CS85/C1 AR for older tractors like David Brown and John Deere with brown interiors.
A big thanks go out to TEK Seating for their great efforts.