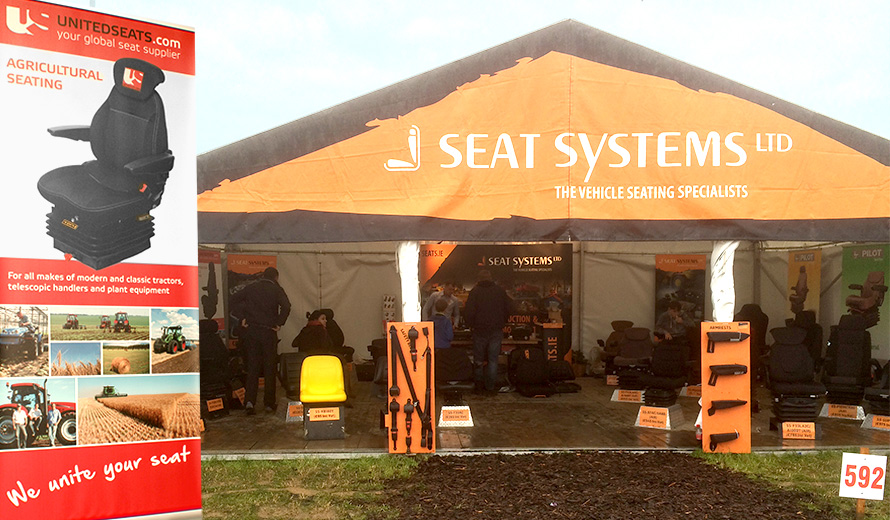 26 October, 2016
---
Seat Systems display UnitedSeats products at Irish Ploughing Match
The 85th Irish Ploughing Match in Tullamore is the largest outdoor exhibition in Europe. With over 283,000 people visiting the show from the 20th-22nd September. This agricultural show promotes the skills of all types of ploughing (horse drawn, steam, tractor) and provides farming businesses the chance to promote their wares to the Irish farming community. It is also now a magnet for stars from the Irish sports and Olympic teams to be seen. There are over 1600 trade stands and all major vehicle producers have stands at the show.
As usual the location in the small village of Screggan was out of the way in county Offaly  in the Irish Midlands. The good weather on the first day drew a massive crowd of 110,000 people all squashed into the show ground, on day 2 the rainy weather made it an epic mud bath but did not deter the Irish farmers. For the third year running the UnitedSeats range and ISRI seats were represented for us by John Newman's company Seat Systems based in Limerick city.
After 3 years in business John has implanted his company as an expert seat supplier in the Irish Market. With a large display in his marquee John and his family team showed they can provide seats and seat parts for all sectors (tractors, trucks, forklifts, construction machinesand marine). With a new building in Limerick city John is now ready to move to the next level.
UnitedSeats range
On the stand customers showed good interest in models such as the CS85/C1, CS85/H90, MGV25, GS20 and CS85/C2 PRO. Also the ISRI AIR 6860-870 with 3 point seat belt for trucks. John was aided and abetted by his sister Lisa, John Gleeson and uncle Seamus as well as myself David Hale.
See Seat Systems website: www.seatsystems.ie
https://unitedseats.com/product/tractor-seats/cs85c1/
https://unitedseats.com/product/forklift-seats/cs85h-90/
https://unitedseats.com/product/forklift-seats/gs20-2/
https://unitedseats.com/product/tractor-seats/cs85c2-pro/