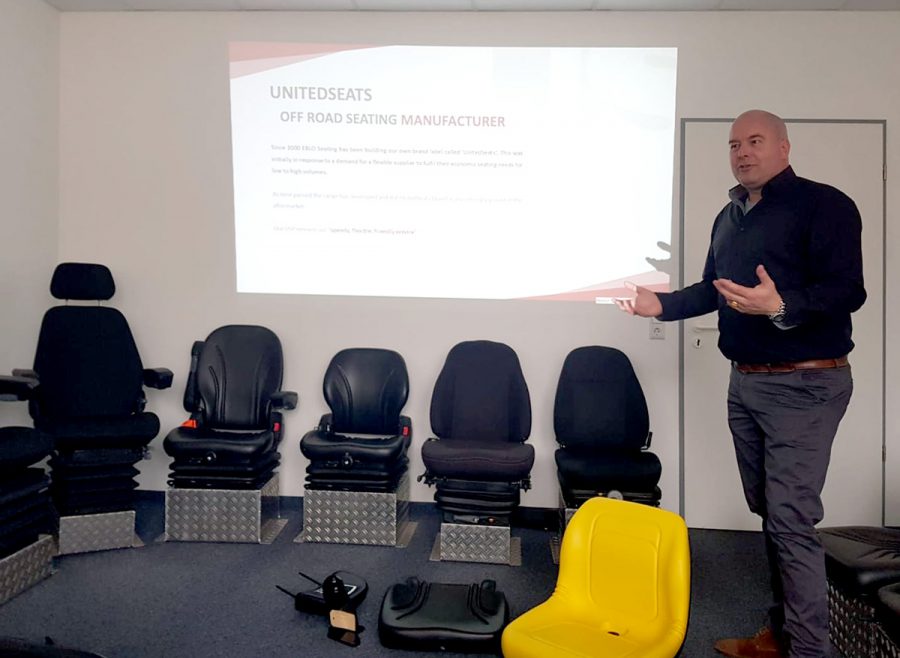 18 May, 2020
---
Successful instruction and training session for UnitedSeats products at German dealership
UnitedSeats now have nearly 50 dealers worldwide. Several new dealers have been added every year. The growing popularity of UnitedSeats is partly due to an extensive and diverse range of seats. Another reason that more and more companies want to join the dealer network is that UnitedSeats offers the possibility to let (new) dealers become familiar with all products.
Sales Director André van der Hoeven recently visited Fierthbauer, one of our German dealers, to provide on-site instructions and training on various (new) UnitedSeats products. All Fierhtbauer's external and internal sales staff, were present to gain product knowledge of the extensive range. André did this through a presentation and documentation of the UnitedSeats products. The creation of the UnitedSeats brand, the idea behind the brand,and vision for the future were also discussed. With all this knowledge, Fierthbauer employees are now able to present the UnitedSeats products to their customers more confidently and provide them with the correct information. It was an interesting and educational afternoon for everyone.
As we cannot always give a presentation at every dealership, we invite a selected group of (new) UnitedSeats dealers every year to come to the Netherlands for the 'UnitedSeats Dealer Days'. Over two days presentations and instructions will be given about the UnitedSeats products. In the afternoon and evening there is time for relaxation to take a pleasant outing together with all dealers, to get to know each other better in private.
We are already looking forward to the next UnitedSeats Dealer Days to combine the useful with the pleasant.