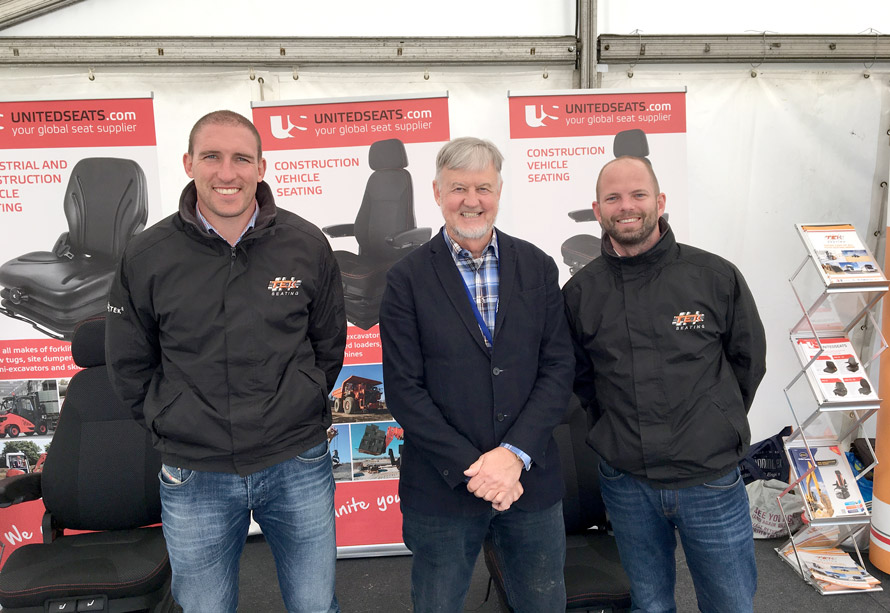 09 June, 2017
---
TEK Seating exhibit at the PLANTWORX show
The PLANTWORX show (6th-8th june 2017) is held every 2 years at the old Bruntingthorpe airfield near Leicester, the site where CATERPILLAR and JLG have their proving grounds. 
The Plantworx show is aimed at the UK Light and Heavy Plant sector, with many leading Construction equipment dealers in attendance either directly or via principal distributors. Inspite of atrocious weather conditions (rain and strong winds) the event attracted good numbers of visitors from the Plant, Construction and Demolition industries.
TEK Seating, the UnitedSeats distributor based in Tunbridge Wells, Kent attended the Plantworx exhibition and in a large Marquee displayed some 24 different seat models (from UnitedSeats/ISRI/Grammer and KAB Seating).
This included a good display of UnitedSeats and our accessories such as seat belts. The new low profile MGV35 seat for small construction machines such as site dumpers and road rollers drew some good attention with its excellent 80mm of suspension with smooth weight adjustment. The ever popular GS20/GS12 and MGV25 seats drew high interest from plant rental customers and the new heavy duty air LGV120/C7 PRO and mechanical MGV120/C7 PRO were well received. A number of visitors were also looking for tractor seats as well.
Due to Health and safety requirements in the Plant industry the increased demand for HI VIZ seat belts was also apparent.
Now with the UnitedSeats Seat Belt price list end customers are able to select the best type of belt for them.
David Hale the Business Manager for UnitedSeats said: "We were extremely pleased with the support from TEK Seating for the UnitedSeats brand and appreciate the efforts of Dan Taylor and Charlie Hardings with the professional efforts at the show". Charlie, David and Dan are shown in our photo.
Next week TEK Seating will be representing UnitedSeats again at the CEREALS agricultural show at Boothby Graffoe near Lincoln.
See our next events: unitedseats.com/events/category/dealer-events/
David Hale 09/06/2017
https://unitedseats.com/product/forklift-seats/gs20-2/
https://unitedseats.com/product/construction-seats/lgv120c7-pro/
https://unitedseats.com/product/construction-seats/mgv120c7-pro/