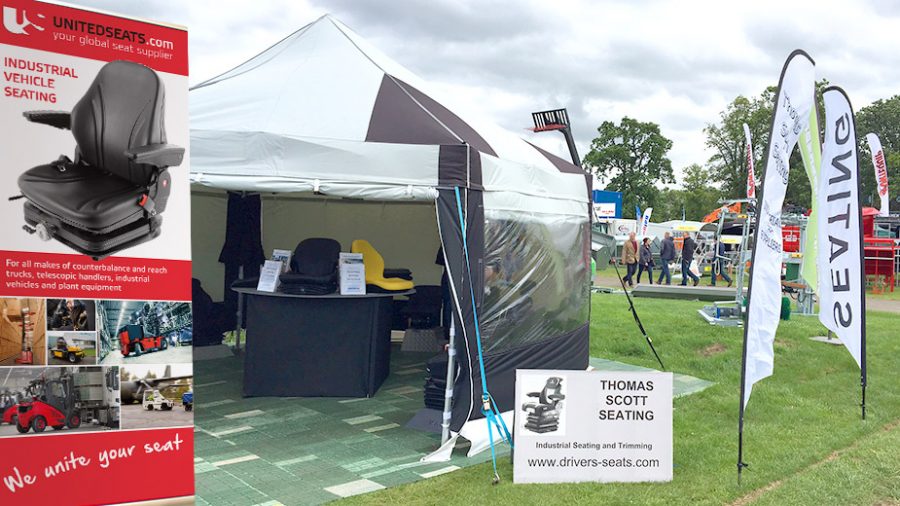 04 July, 2017
---
Thomas Scott Seating exhibit at the Royal Highland Show
Thomas Scott Seating
 attended the 177th Royal Highland Show at Ingliston near Edinburgh 22-25th June 2017. The event achieved a new record number of visitors with over 190,000 attending over the 4 day event.
The show features machinery, farm related displays and animal competitions and draws together the farming community from all over Scotland. It is also an important tourist attraction and business event in Scotland. Thomas Scott Seating has been attending this show over the last 20 years or so and over the last 3 years has introduced UnitedSeats along with other brands which they represent.
UnitedSeats products like the CS85/C1, CS85/H90, GS12/GS20 and MGV25 particularly appeal to farmers and operators with Classic Tractors and older machinery such as forklifts, telescopic handlers and wheeled loaders. This year they also added the new MGV35 on the display.
The weather was a typical mixture of sunshine an showers, and the wind was very blustery which meant that the display tents had to be heavily secured. Nonetheless Stephen, Graham and Wullie from Thomas Scott did a great job giving farmers information about their seating and parts options.
David Hale the Business Manager for UnitedSeats, who is seen in the Photo with Steven and Wullie either side, said 'we appreciate the time and efforts of our dealers at such regional events as it helps promote our brand around the UK and helps educate the farming community about maintaining a good standard of seats in Tractors and other machinery'. ' Many farmers still use seats with wear issues and this is not good from an operator health and safety perspective and often these can be remedied by fitting new dampers, replacement suspensions, seat cushions etc.'.
At this year's show the new UnitedSeats-Thomas Scott catalogue was available for use on the stand.
So we thank Greg Ternent and his team at Thomas Scott Seating for representing us.
David Hale 03/07/2017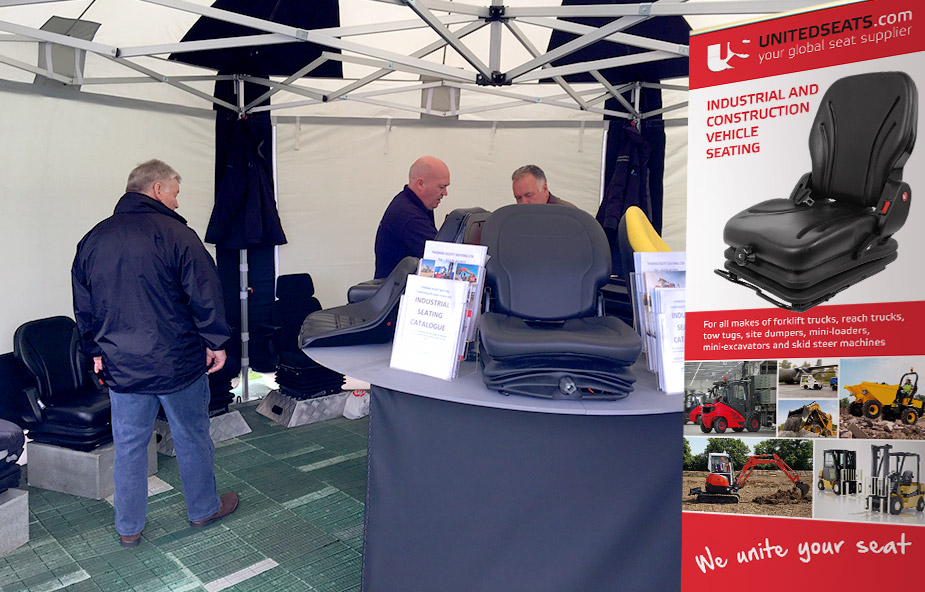 https://unitedseats.com/product/tractor-seats/cs85c1/
https://unitedseats.com/product/forklift-seats/cs85h-90/
https://unitedseats.com/product/forklift-seats/gs20-2/